Vendor Data Management acts as a mechanism for business departments to easily, quickly and accommodatingly onboard new suppliers into their SAP eco-system. The end users will be Enterprises working with various vendors targeting to reduce the procurement cost by simplifying their payment process.
Create Vendor Request- This application allows the user to create a Vendor Request for each vendors.
Pending Vendor Request- Once the request is created a notification is sent to the Manager for Approval . All the requests can be tracked under 'Pending Request Tile'.
My Vendor Request- The requestor can track all his/her requests status under 'My Vendor Request'.
Create Vendor Request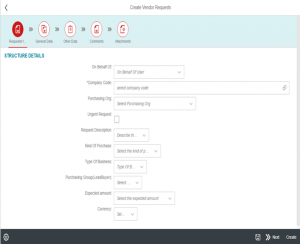 Pending Vendor Request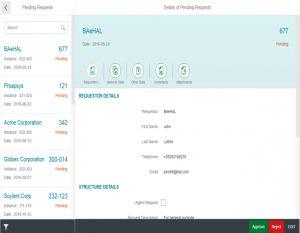 My Vendor Request- Process Tracker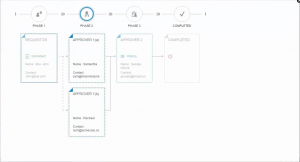 Following our Design Thinking workshops, we addressed these key areas:
Clarity of Information
Certain fields in the vendor form (Excel) was incomprehensible and irrelevant to some vendors. There was not much help offered in instructing the vendors to fill the form duly.
Request Status Tracking
There is no mechanism to track the approval status of a vendor request once it is submitted.
Erroneous and Incomplete forms
Vendors submit forms with errors or incomplete information. The process results in additional iterations and thereby increases the on-boarding time significantly.
Consistency of Information
If there is a change in the information for a vendor, the vendor form has to be filled completely again with the updated information and go through the entire process again.
Old fashioned process
The purchasing teams find the process to be disorganized with excess paperwork. Long email chains in the process adds to confusion and complicates the audit approval trail, sometimes leading to the loss of confidential documents.
SAP Screens not User-friendly
The current process is executed on standard SAP ABAP interface making it complex for users to manually enter all the information for each Vendor based on the Excel form. Navigating through many fields, forms and tabs makes the process time-consuming and lengthy. On an enterprise level, it is crucial that the process of on-boarding a vendor is effective, simple and most importantly compliant.
With the objective to address these usability and performance challenges, we designed the Vendor Data Management solution, a SAP UI5 user-friendly application, to enable business teams to easily, quickly and accommodatingly on-board new suppliers into their SAP eco-system.
The process applications includes:
Fiori Vendor Simplified Request Form (Shop Cart based)
Compliant Documents Attachments
Approval Tracking
Benefits
Enhancements in new Vendor on-boarding.
Consistent and faster vendor request submissions with clear audit trail
Experienced personnel are released from problem solving to concentrate on core purchasing processes.
Reduced misunderstanding and miscommunication as Vendor Forms can be made as a self-service application
UI5 simplified process directly results in reduction of man-days devoted to the vendor management process.
Elimination of paperwork
Mandatory fields to address legal obligations during supplier submission cannot be forgotten or overlooked