What if you could transform your business vision into reality by co-innovating side-by-side with software providers and your business partners to:
Validate your plans before you took risks
See and touch an actual process model of your new end-user experience
Capture your new model in a template to reuse across your global software footprint
Would that describe your ideal software experience and help you close the gap between business innovation and IT's ability to adapt?
Access VASPP Prototyping Services
This unique service lets you validate new business concepts and scenarios directly in standard software to:
Determine the feasibility of those scenarios in a proof of concept
Create and test-drive new functionality in standard software before adoption
Accelerate implementation by abbreviating the blueprint phase
Virtualize templates of your semi-productive solution for further use in your standard software environment

What makes VASPP prototyping services unique is the ideal simulation lab. In the lab all combinations of standard software and related technologies can be modeled and integrated for your business scenarios by a team of experts dedicated to your project. Launch your project within five days of purchase and expect tangible results in only two weeks (see the figure).
How Does this Work?
Access one or all of the following prototyping services to transform your vision from concept to reality:
Envision workshop
Iterative prototyping
Pilots and performance test
How can you best apply our prototyping services to tackle your greatest business or IT challenges?
If you are in a line of business, access prototyping services to prove feasibility of new business processes or technology innovations that launch new products, protect brand equity, drive efficiencies, or comply with regulations. Example for design prototyping: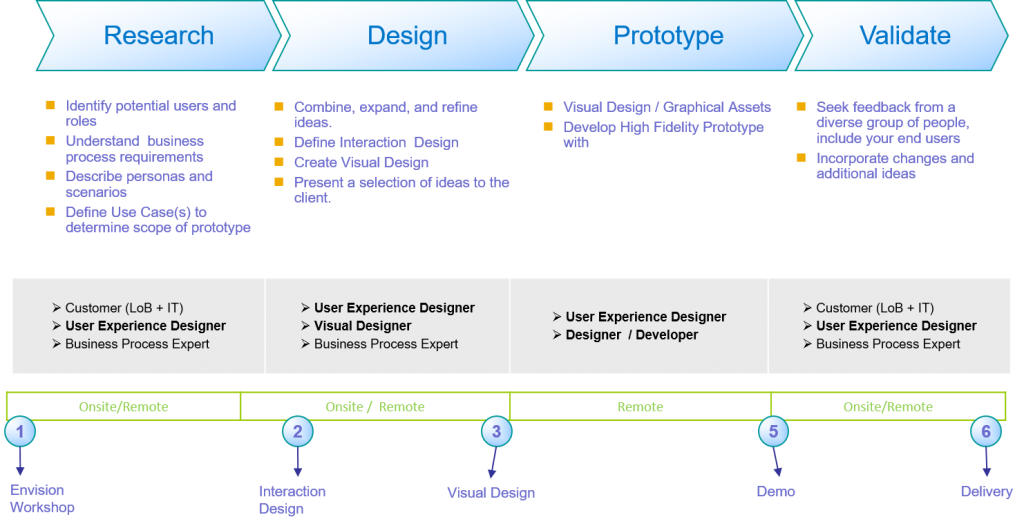 Which Are Your Business Challenges?
VASPP prototyping services address many business challenges, such as:
Integrated strategy to execution
Business planning
Financial consolidation
Governance, risk, and compliance
Business intelligence
Customer relationship management
Supplier relationship management
Talent management
Logistics and supply chain management
Adaptive manufacturing
Traceability, serialization, and authentication
Co-innovation with partners
Enterprise asset management
Mobile integration
Business-to-machine integration
Integration of the SAP Interactive Forms software by Adobe
Microsoft software integration
Intellectual property management
Master data governance
Rapid development and user interface design